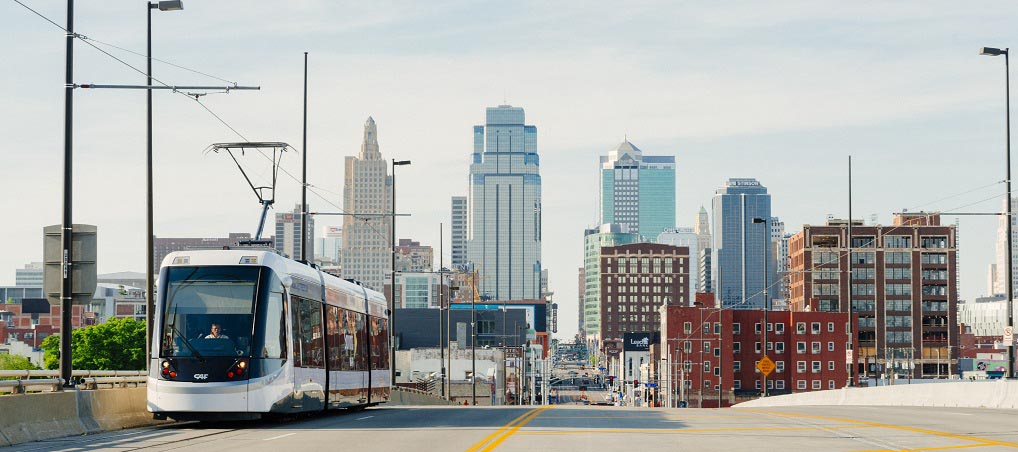 Located in the middle of the continental United States, Kansas City has always been an important transportation hub for shippers. Nationally, however, Kansas City takes a back seat to larger distribution centers like Chicago, Dallas and Los Angeles.
That secondary status might be changing, thanks to the development of a massive, state-of-the-art intermodal transportation hub in suburban Edgerton, KS.
Logistics Park Kansas City is a 1,500-acre business park capable of handling 17 million square feet of warehousing. As much as 3 million square feet of those facilities can have direct access to a 433-acre intermodal center operated by the Burlington Northern-Santa Fe railroad.
Logistics Park recently made news when Amazon.com announced plans in March to occupy a 822,104-square-foot warehouse at the complex. The new fulfillment center is expected to create as many as 1,000 jobs for the Kansas City economy.
Shippers are drawn to Logistics Park because of its size and flexibility. Logistics Park bills itself as the only full-service facility in the western United States to offer domestic and international intermodal shipping, as well as direct-rail and carload service.
"Having international and domestic rail served all in one park is pretty unique," said Carl Wasinger, president of Smart Warehousing, which is a Logistics Park tenant. "The way they have laid everything out here is friendlier to today's transportation world than some of the older parks around the country."
Domestic and International Freight in Kansas City
In 2014, Kansas City's regional network of transportation hubs handled an estimated 264 million tons of freight valued at $357 billion.
264 million tons
Trucking: 217.5
Rail: 40.9
Pipeline: 4.5
Water: 0.932
Air: 0.021
$357 billion in value
Trucking: $309.1
Rail: $41.6
Air: $3.2
Pipeline: $3.1
Water: $0.235
Source: Mid-America Regional Council
Room for Expansion
Only a fraction of Logistics Park has been built out by Kansas City-based real estate company NorthPoint Development. In the coming years, as the inland port in Edgerton expands, it will drive more industrial construction and job growth in the Kansas City region.
"It's kind of a rising tide, a game-changer in terms of what is happening in the market, for sure," said Chris Gutierrez, president of KC SmartPort, an nonprofit that attracts freight-based companies to Kansas City.
One of the first tenants to move into Logistics Park in 2014 was Smart Warehousing, a fulfillment services company that was based in nearby Lenexa, KS. Moving a few miles down the road to Edgerton made sense because it allowed Smart Warehousing to consolidate its operations. Another factor was close proximity to BNSF's intermodal hub, which provides more outbound opportunities and savings on drayage for Smart Warehousing and its clients.
"We're excited about being out here and looking forward to helping the park continue to grow and expand," Wasinger said.
Opened in 2013, Logistics Park today consists of five warehouses with three more scheduled for completion this year. The new warehousing will bring total square footage at the park to 4.8 million square feet, including the 822,000-square-foot structure that Amazon will use as its fulfillment center.
A Rising Power in Freight
Logistics Park has five 90-foot cranes that remove containers from trains and load them onto trucks. Three additional cranes will be erected at Logistics Park later in 2016. When it reaches its full capacity, the park is designed to handle as many as 1.5 million lifts per year of cargo from around the world.
That is big news in Kansas City, which ranks as the nation's largest railroad hub in terms of tonnage and among the five biggest trucking centers. The freight industry supports more than 100,000 jobs in the Kansas City metro area. Soon, Kansas City might rival larger U.S. cities like Chicago or Dallas in terms of the movement of goods.
Shippers favor Kansas City because it is located within a two-day drive of more than 85% of the U.S. population. However, demand for warehousing space in the metro area that straddles the Missouri-Kansas state line has never been as great as it is today. A Kansas City-based planning organization called the Mid-America Regional Council was bullish on the local freight market in its 2015 Transportation Outlook. That report projected the amount of freight moving through metro Kansas City would increase from 264 million tons in 2014 to 338 million tons by 2040.
SmartPort's Gutierrez thinks that prediction is conservative. He noted that the expansion of Logistics Park has helped spur further development in smaller freight hubs that dot the metro area. Overall, an additional 6 million square feet of warehousing space is set to open this year in the Kansas City region.
"We're not Los Angeles or Chicago or Dallas, but we have now been competing with those markets over the last two to three years in terms of industrial development," Gutierrez said. "That's never been the case before."
With headquarters located in the heart of Kansas City, Ryan Transportation is ready to help you take your operations to the next level. Contact us today!
Sources: Smart Warehousing, SmartPort Kansas City, Logistics Park Kansas City, Mid-America Regional Council, Kansas City Business Journal