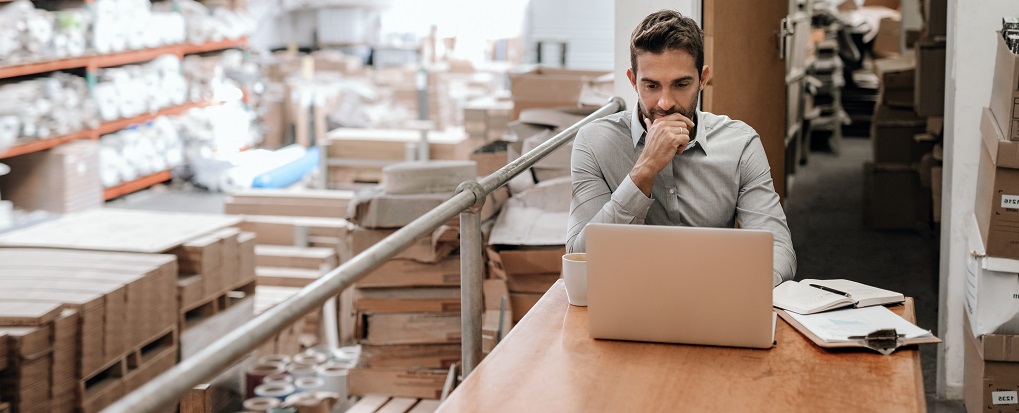 You may have found that the way you move goods and materials through your organization's supply chain has become a lot more complex than it was even a few years ago.
You are not alone in that regard.
Globalization, technology innovations and increased customer demands have made most companies' supply chains more complicated—and more extended—than ever before. Studies show that manufacturing companies may now conduct as much as 80% of their supplier network activity outside their four walls.
These days, having a decent Enterprise Resource Planning (ERP) system is not enough to ensure full visibility to most supply chains. A more sophisticated solution is required. A Transportation Management System (TMS) aids and monitors interactions among order management software, distribution centers and warehouse management systems.
Without a TMS, management of your supply chain might become disorganized, less efficient or worse. In a recent study by consulting firm Deloitte, 30% of companies surveyed said they had experienced some form of supply chain fraud in 2015. In a 2016 survey of food manufacturers by research firm Achilles, 19% of the companies interviewed could not name all of the vendors in their supply chains.
More shippers are turning to TMS programs for answers to their transportation challenges. What makes a TMS a better solution for today's supply chains? Here are the key advantages:
A Common Platform
As your company grows, so does the number of suppliers and other business partners. The addition of more locations, routes and legacy systems puts more stress on your supply chain and limits your visibility. A recent study by the United Kingdom-based Cranfield University for Logistics and Supply Chain Management identified 52 pieces of data that need to flow across a typical supply chain. A traditional ERP or Supply Chain Management (SCM) system is not up to the task of managing so much information.<.p>
An Internet-based TMS allows all parties in a supply chain to share data and resources in the digital "cloud" instead of on their hard drives and through emails. Because everyone is operating on the same technological platform, communication is better, the supply chain is more functional, and better decisions can be made more quickly. The TMS also provides real-time information on shipment locations, which greatly improves visibility to supply chain activities.
Technology + Expertise
Some companies are only interested in purchasing TMS software and integrating the technology into their supply chains. However, a certain level of expertise is required to maximize the capabilities of a TMS.
Hiring a third-party-logistics (3PL) company that offers TMS software as part of a fully managed solution is ideal for companies that do not have in-house transportation specialists. The 3PL can customize the software to a client's supply chain. A team of transportation management professionals can then analyze the data coming in from the TMS to identify areas of improvement.
Robust Reporting
A TMS not only provides a clear line of sight into what is happening in your supply chain, it includes a wealth of real-time data. You can use this information to reduce risks and make your supply chain more efficient. The reporting from a TMS includes:
Details about the cost, quantity and arrival time of each load
Customized reference fields for accurate freight invoicing
Detailed accrual reports on transportation spending for greater financial visibility
Real-time tracking and tracing of freight movement
Any issues that require an immediate response
Overall supply chain performance over a short or long period of time
Performance and reliability of your carriers
Systemic problems or inefficiencies
Carrier Procurement
The constant fluctuations in trucking capacity make it easy for shippers to pay too much for transportation. A TMS enables you to set up a strategic bid process that leverages market conditions and competitive lane rates from your incumbent carriers as well as fleets outside your network. This creates a customized rate guide that brings cost savings and order to your carrier management.
Load Optimization
The TMS provides detailed information about carrier costs, accessorial costs and invoiced amounts for each load. Transportation professionals can analyze this data to identify the best way for your company to consolidate a group of loads. The result of load optimization is better load rates, fuel efficiency and additional savings through smarter shipping.
Risk Management
When a supply chain operates more efficiently with the best available carriers, the risks of late deliveries, damaged shipments or accidents decline. A TMS combined with professional data analysis provides more flexibility and greater trucking capacity for your freight movement. When problems do arise with a carrier or a load, the quality of real-time reporting allows you to make quick and appropriate fixes.
Cost Savings
Once a TMS is fully implemented, you should start seeing a reduction in your transportation spending within just a few months. The carrier procurement will deliver more competitive rates, load optimization will lead to more efficient freight movement, and the system should identify any disjointed activity in your supplier network. The result should be measurable cost savings after a year's time of using a TMS.
Scalability and Continuous Improvement
The blending of a TMS with the right transportation expertise means that the service should grow and evolve along with your supply chain. With the fast pace of today's economy, it is likely that your supply chain will look very different in 2020 than it does today. Having the right TMS and transportation partner ensures that you continue to maximize freight, identify new efficiencies and save money as your business and supply chain expand.
Sources: Material Handling & Logistics U.S. Roadmap, Cranfield University for Logistics and Supply Chain Management, Logistics Management, Spend Matters, Supply Chain & Logistics